Facility
Over the last two years demand for our cylinder heads and engines has been overwhelming. As-is, we ship at least one K Series Honda head every day, and we also manage to ship three to four B series heads per week. Throw in custom manifolds along with a few non-Honda heads and we're operating at peak capacity. We also ship 3-4 dyno-tested engine assemblies for discerning customers every month. We're not attempting to increase production rates because quantity and quality can not co-exist in our world. Quality is everything.
In order to spend more time machining and assembling heads/engines, we need to dramatically reduce the amount of time spent on the phone selling parts and answering questions. We've determined that selling pistons is always extremely time-consuming because customers may know what they want, but rarely do they know what they need. So by mid-2011, our Roller-Wave pistons will be available only to cylinder head and engine customers. There may also be some other components trimmed from the line-up as time as schedules demand.
More New Stuff
In 2010, we purchased the best soda-blast machine that Gary (at ABS) produces. It was custom built for blocks and heads we work with, including some of the (long) in-line 6-cylinder's. The soda blaster makes a fine companion for our ABS "metal-conditioning" machine.
The soda blaster allows us to clean the nastiest heads and blocks prior to machining. Heads and blocks typically meet the jet-washer first, then go to the soda blaster, and finally into the sonic cleaner before subsequent machine work. These procedures allow us to do superior work and provide the customer with the highest quality componentry possible.
Most of the engines we build today use billet crankshafts, which we in-turn modify to decrease crankcase windage. Once again, to insure our customers receive the highest possible quality, we have installed a new CWT crank shaft balancing machine.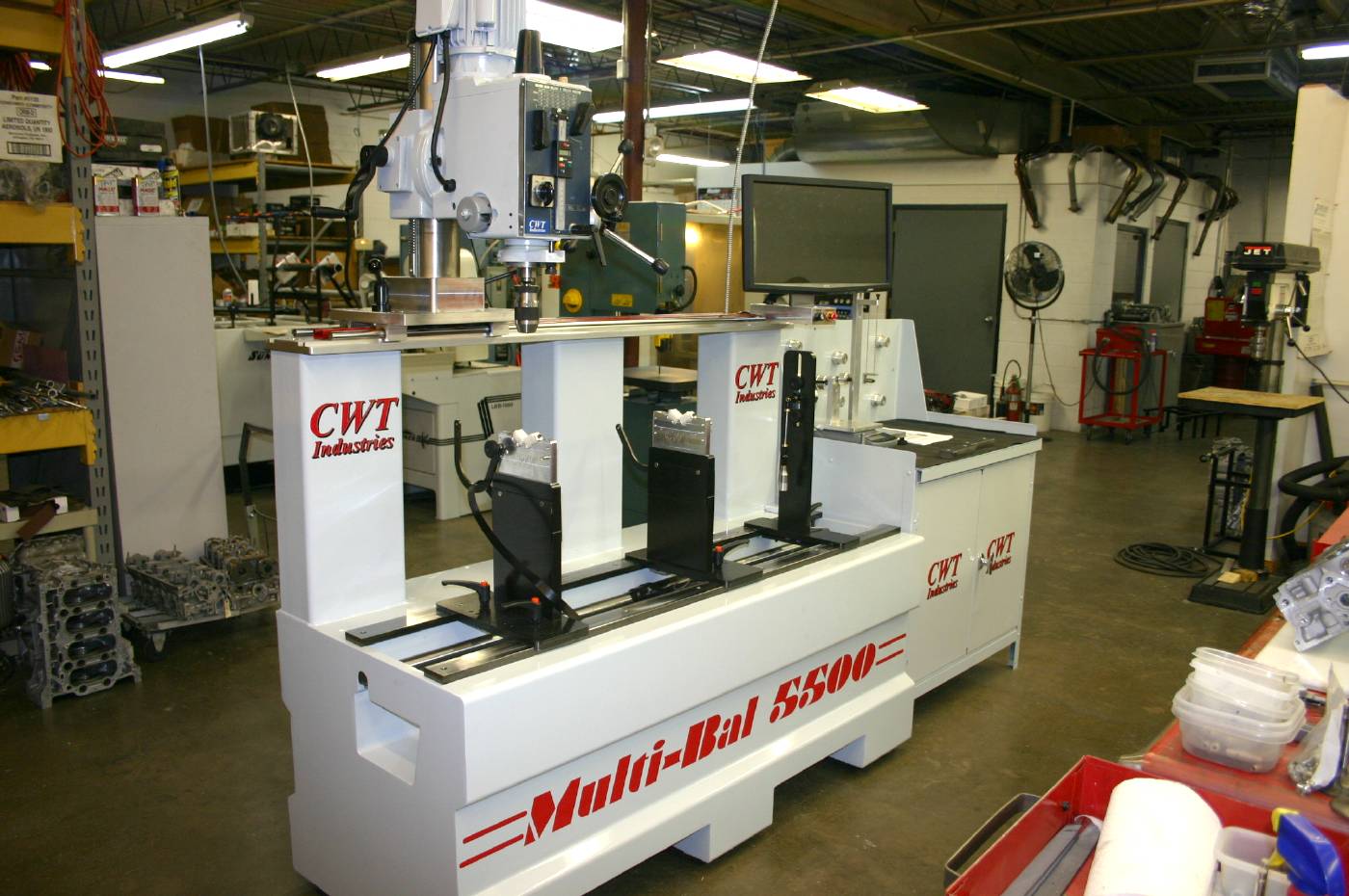 The CWT balancer is state-of-the-art in every way. It's used for balancing pistons, rods, and cranks to incredibly tight tolerances, and gives us complete control over every aspect of the engines we build, and it's all under one roof.
2009 A Year of Change
The economic collapse of 2009 has brought many automotive aftermarket businesses to their knees, eliminating many in the process. Just as in nature, where "survival of the fittest" rules, hard economic times also tend to separate the men from the boys, winners from also-rans, and those who are committed to business in the long-term from those who were in it for a quick buck.
Endyn has survived a number of recessions in the past, and we have actually seen 2009 as another year of growth for the business. As a result, we have continued to increase our capital investment in new machinery, and personnel. All of this has enabled us to give customers more immediate delivery of custom componentry, cylinder heads, and engine assemblies that are of unmatched quality at no increase in price over previous years. Having embraced CNC cylinder head porting several years ago, today, we can typically provide customers one-week turn-around on fully prepared cylinder heads.
We also build complete engine assemblies for customers. Once again, in order to provide our clients with the very finest work available, we have recently purchased the very latest Sunnen machinery, allowing us to have absolute control over all phases of machining quality and scheduling.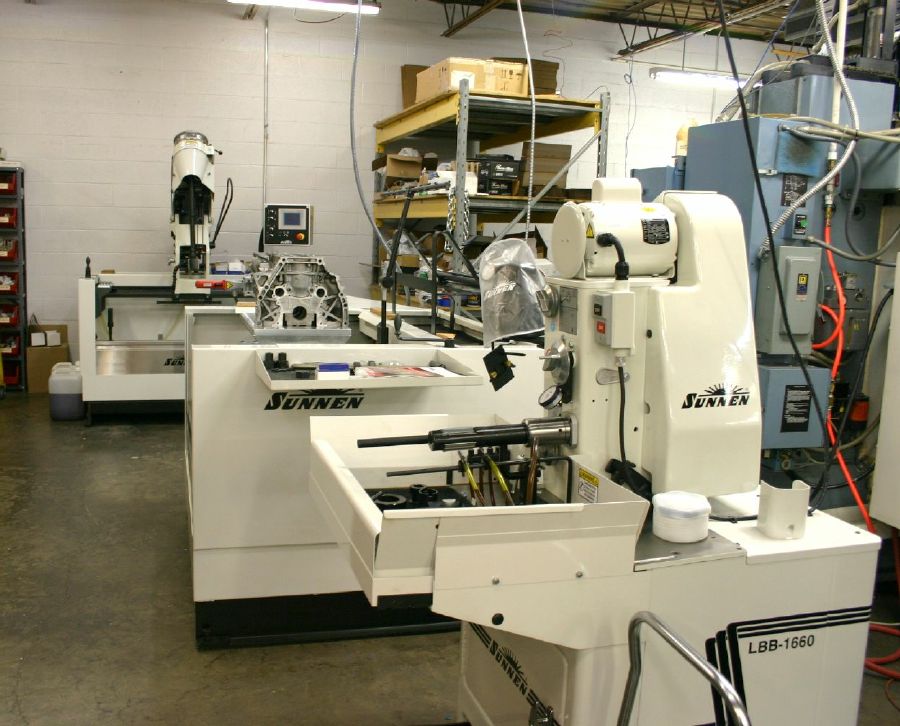 Our new Sunnen equipment includes the latest SV-10 cylinder hone with diamond tooling at the top of the picture. In operation, this machine measures bore diameter, and it's computer adjusts load and dwell to net a perfectly straight and round cylinder bore of the exact diameter specified. Next in the line-up is the new Sunnen CH-100 horizontal hone, once again using diamond tooling and Honda-specific fixturing we designed and built here. And, finally we have the Sunnen LBB-1660 bore home for sizing connecting rod big ends, as well as rod and piston pin bores.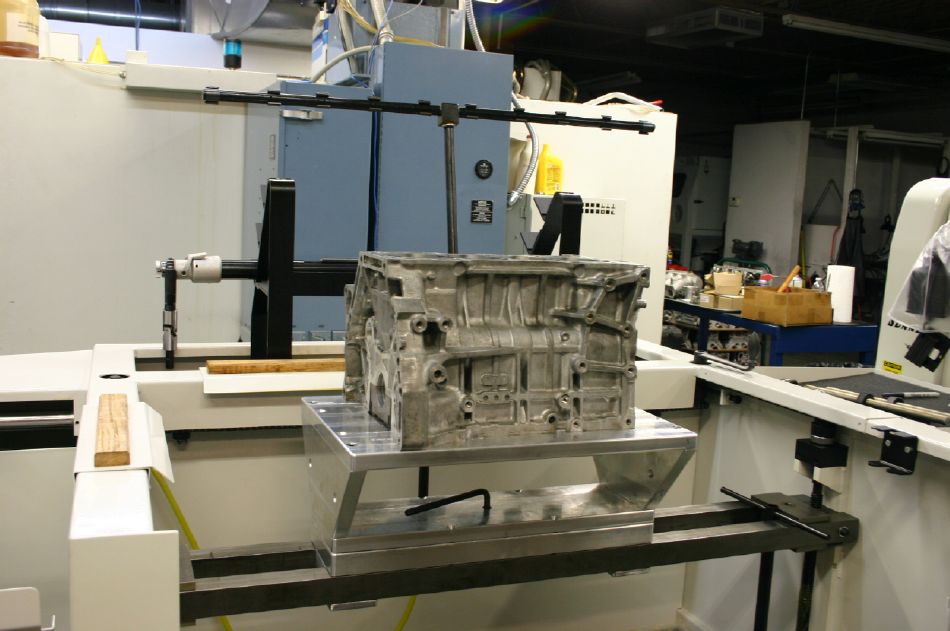 Our custom fabricated fixture allows us to align-hone the main bores with the (harder) iron main caps downward for greater precision. With it's detents and central locking bolt, this billet fixture also allows us to rotate the block 180° without removing a single bolt.
While many machines are called "automatic", it still takes dedicated personnel to operate them.
Cylinder Head Machining
Endyn opened it's doors in 1974 with a goal of producing the finest custom cylinder heads, and associated components available anywhere. Today, in addition to custom cylinder heads, we also dyno-develop, build, and guarantee complete engine assemblies. We also sell individual components we've designed for our engines. These components include pistons, custom piston ring sets, custom wrist pins, billet connecting rods, custom crankshafts, modified high-flow oil pumps, cams, valvetrain components, custom intake manifolds, headers, and crankcase breather systems.
While other shops are scrambling to keep their doors open, we are continually investing in the latest and most accurate machinery available, regardless of price. Unlike other machine shops that are ramped by time, we spend what ever time is necessary to complete each job to perfection. Nothing leaves Endyn if it doesn't please me, and rest assured, my standards are much higher than any of our customers'.
With the exception of align-honing main bores, and final cylinder wall preparation, which is done to our specifications by the long-time experts at Reher-Morrison Racing Engines, all additional fabrication, machine work, assembly, and testing is takes place under our roof.
Our machining area is clean, climate-controlled, well-lighted, and meticulously maintained. All of our machinery was purchased new to do limited numbers of high-tolerance custom jobs. These machines have never seen the wear associated with high-volume general automotive machine work.
The single most important aspect of a cylinder head is the valve seat. The seat must be absolutely concentric and perfectly finished to provide a long-lasting seal with the valve. We do not lap valves and seats, as it's impossible to remove the embedded compound from the pours of the material and it will lead to early seat erosion and subsequent leakage.
In 2007, we purchased a Newen Contour BB CNC fixed-turning valve seat machine. The machine is unrivaled in the industry when it comes to accurate seat machining. Each seat we machine is custom-designed on the machine's computer to net the airflow characteristics and longevity necessary for the specific head application.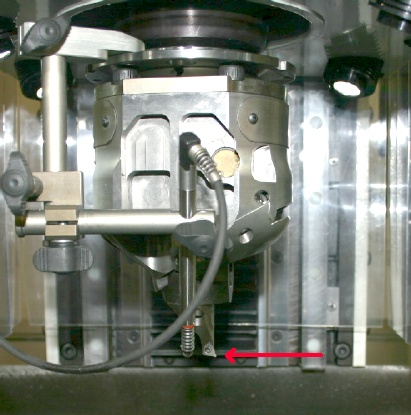 Rather than using formed carbide cutters, the Newen uses a single point cutter that travels both vertically and horizontally to machine seats to the exact contour designed. We're able to machine the long-side radius of the port's bowl, the seat, and the radius transition into the combustion chamber all in one operation, regardless of complexity.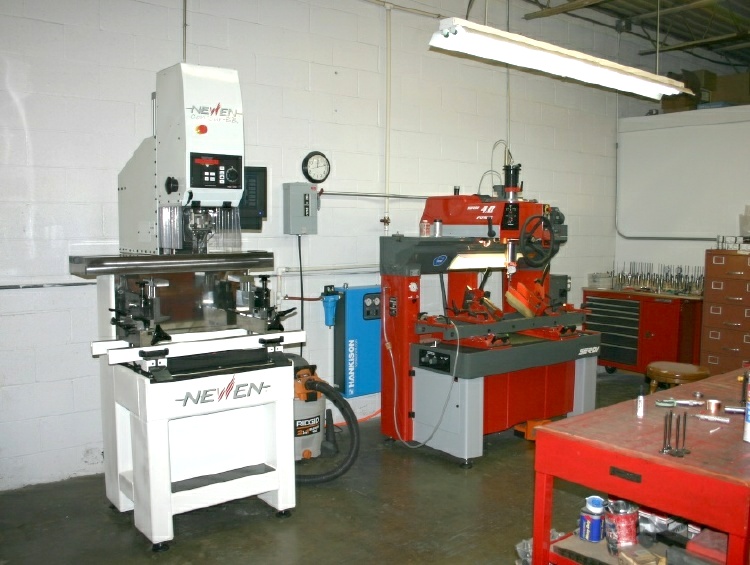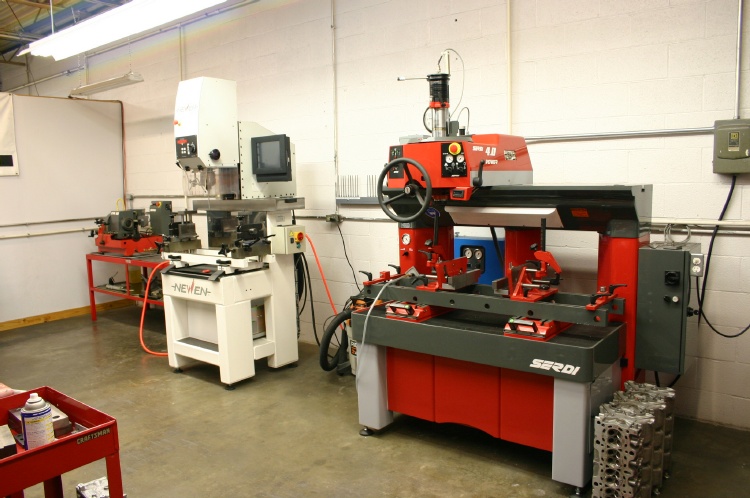 Our Newen Contour BB is backed-up by our new Serdi 4.0, which has replaced our previous Serdi 3.0
We've built a number of custom fixtures for the Serdi 4.0 to improve the machine's center of gravity (and accuracy) for the specific heads we deal with. The Serdi can't compete with the Newen for seat concentricity and finish, however, it's ideal for machining head counter-bores (for seat insert installation), and rough-machining seats to shape prior to porting and final valve jobs. We also use the Serdi for valve guide and spring seat modification.
As you can see, we have an extensive array of pilots, tool holders, and custom-designed cutters for every application. Our many pre-set cutter combinations eliminate the need for time-consuming tool adjustments and the possibility for error.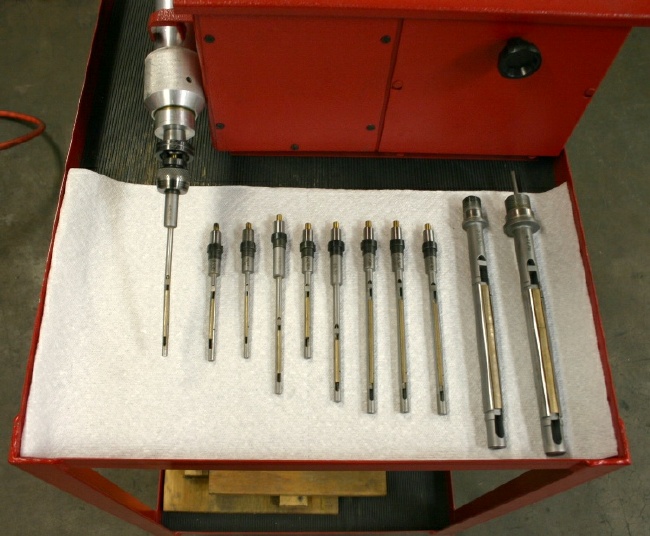 Sloppy valve guide clearances lead to extreme valve face and seat wear. Each and every head we do has valve guides that are precision-honed to the net the exact valve stem clearance necessary for the specific head application. We have specific diamond honing mandrels for every valve guide diameter and length we service.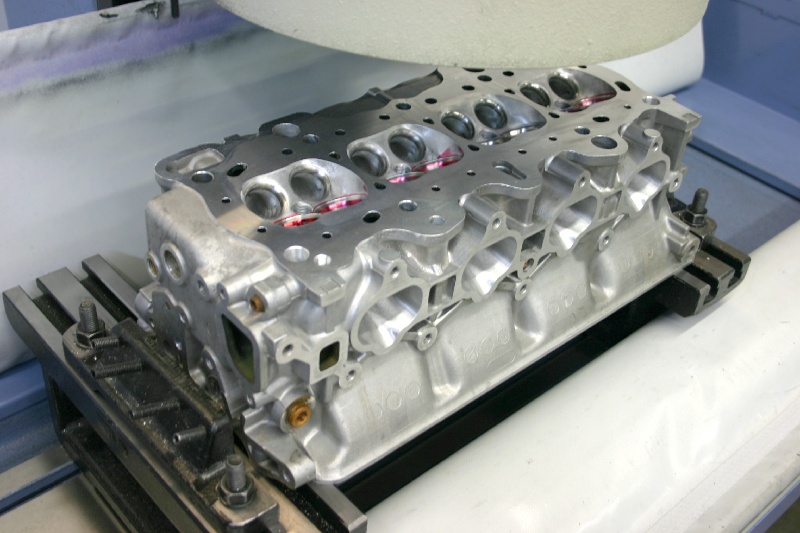 Cylinder head squaring / milling and block decking is accomplished using custom fixturing and the most accurate machinery in the industry.
CNC Porting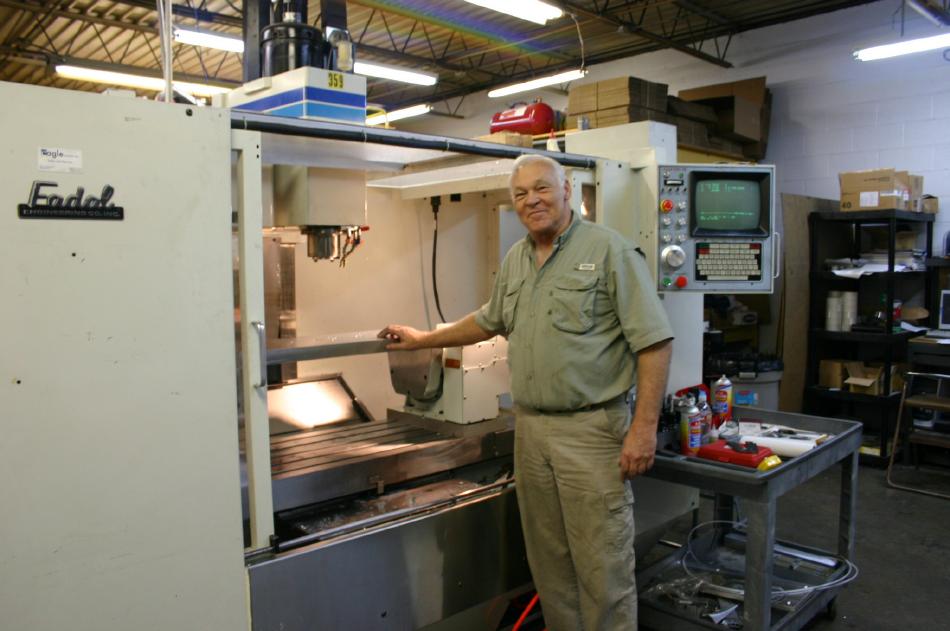 Bob Butler (of Reher-Morrison fame) came to work for us a year ago. He is responsible for all cylinder head digitizing and CNC operation at Endyn. Over the past 12 months, Bob has digitized over 50 combustion chamber and port designs for Honda heads, as well as those for our Toyota, Mazda, Mini, and Nissan combinations. Our ability to provide customers with the finest cylinder head preparation (with one one week delivery) is the result of Bob's hard work.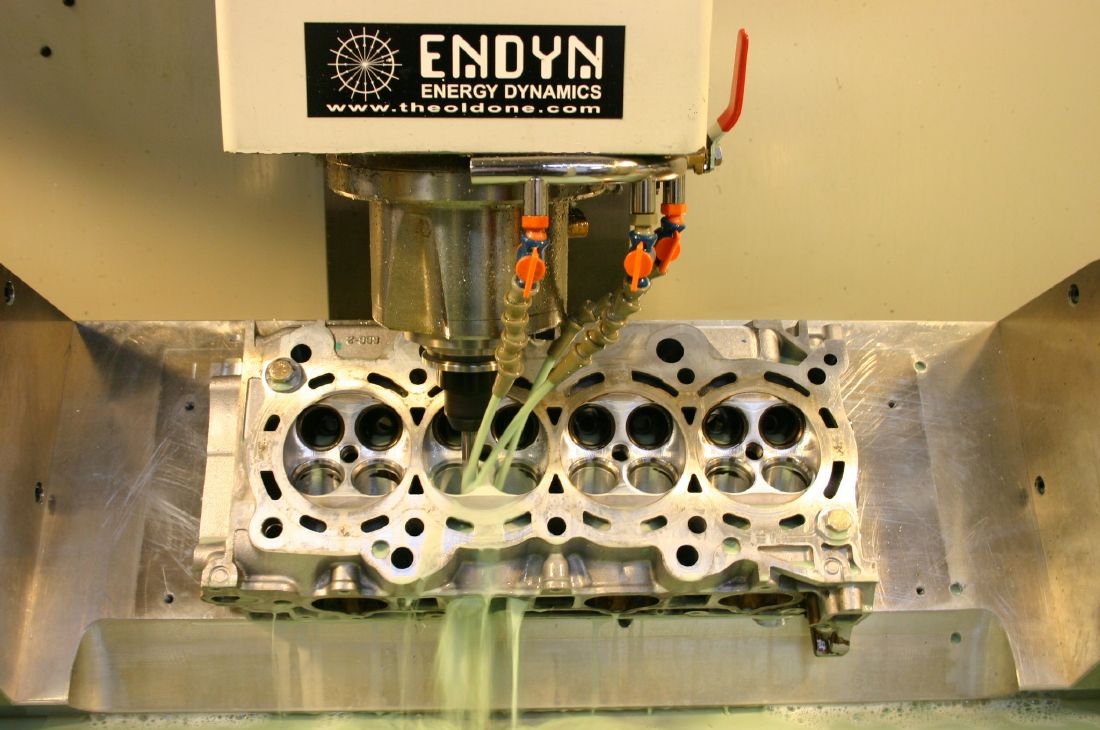 We have designed and fabricated extremely heavy fixturing for precision location of cylinder heads. In combination with huge hydraulic brakes at each end, this rigid fixturing allows for the highest quality possible when machining the heads.
Once again, thinking outside the box has allowed us to also perform rigid 5th axis port work with seamless transitions.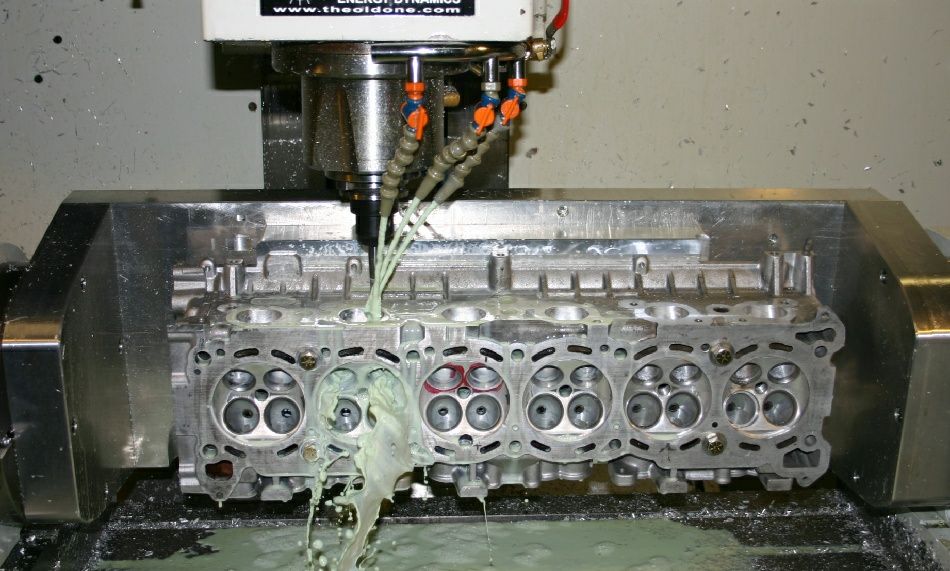 Nissan Skyline Turbo
Finished CNC Honda K Series with oversize valve seat inserts (our most popular head package).
Valve Guides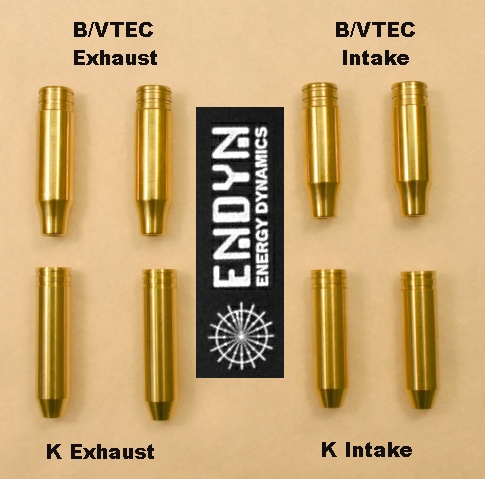 All of the "Aero" valve guides we use are custom configured to net the absolute minimum airflow loss, while still maintaining the length necessary to provide long-lasting guide and valve stem life. If you are beginning to get the picture that shelf parts aren't good enough for our customers....you are right.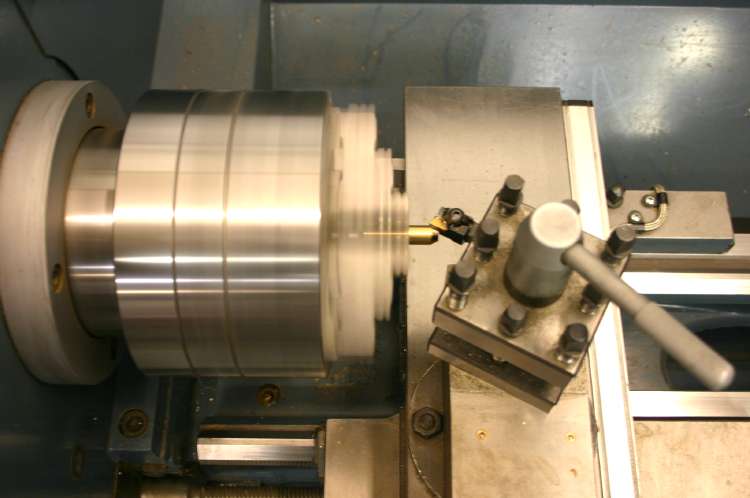 Our lathe, with it's precision chuck is used for machining valve guides, and re-contouring valves, and "adjusting" piston land diameters and dome heights.
We use a Serdi centerless valve grinding machine for facing valves. Dedicated measuring fixtures assure that valve face run-out is held to less than .0001".
Fabrication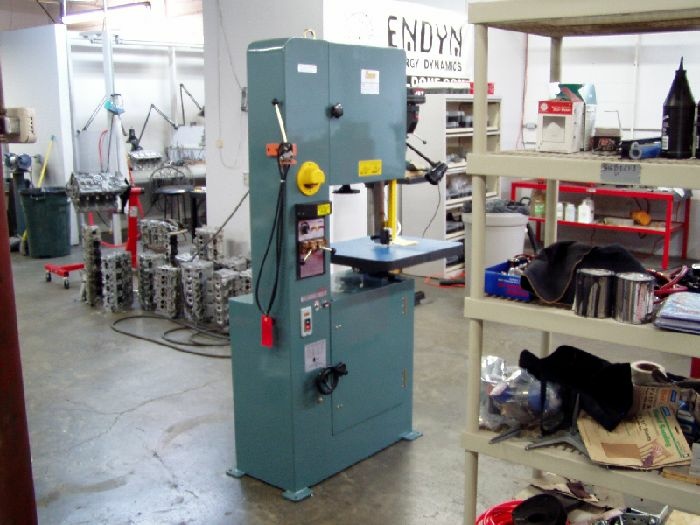 Welding and fabrication take place in this area, which is segregated from the machining and assembly areas to avoid the possibility of abrasive contamination.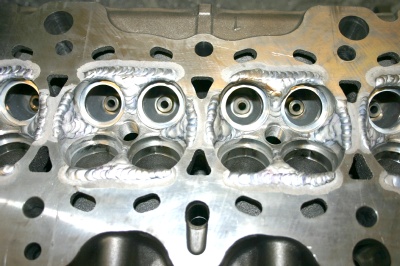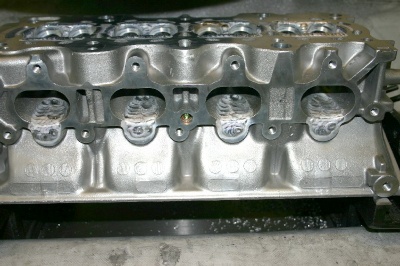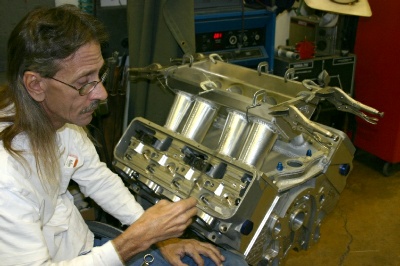 Mike Garvie is responsible for all head welding / fabrication. He's nationally renowned in the racing world for his expertise.
Metal Conditioning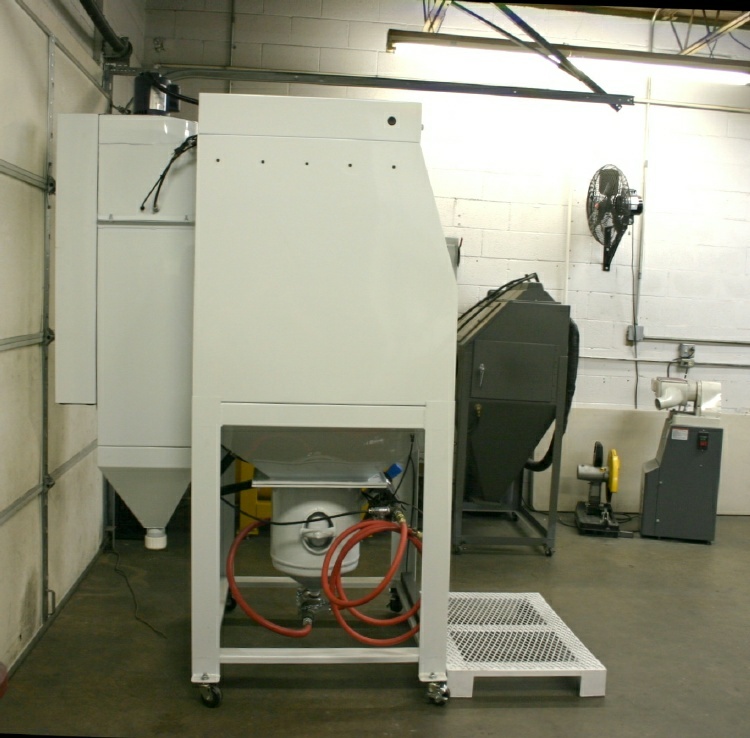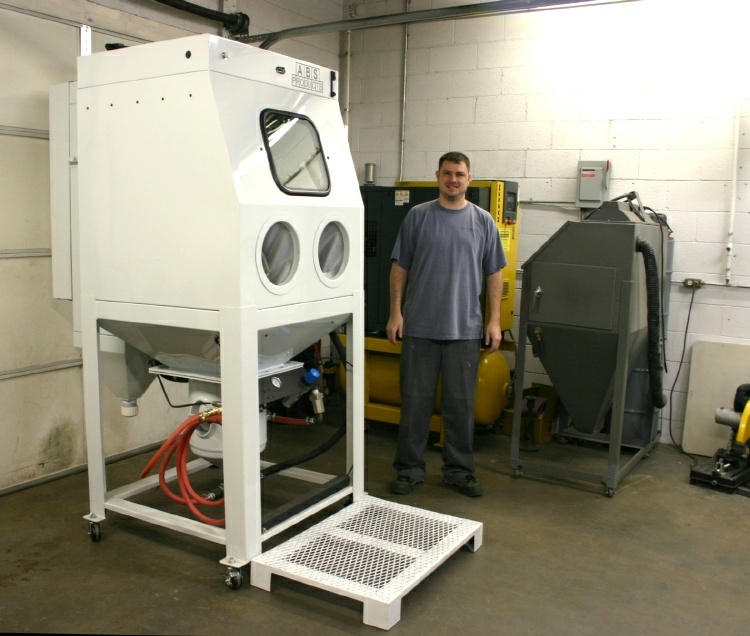 Gary at ABS custom built this monstrous machine to suit our needs. We use the machine with a various sizes of faceted stainless-steel shot to manipulate manifold, port, and chamber textures. We've found that adding the right surface finish in key areas pays huge dividends in the delivery of atomized fuel and increased burn efficiency. While originally used in preparation of our endurance-racing heads, we've seen substantial gains in fuel economy on treated street heads too....which is something we can all relate to with today's ever-increasing fuel prices.
Component Cleaning
When building engines, the saying "cleanliness is next to godliness" applies. Our commitment to building the cleanest possible engine assemblies includes a cold vat containing hydrocarbon-eating microbes, a Peterson high-pressure blasting cabinet using soap and hot water, and an ultrasonic cleaning system large enough for an entire Honda engine. We use no environmentally-harmful chemicals in our facility.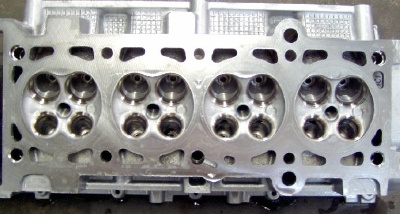 A Mini Cooper head, before and after cleaning for 8 minutes in the sonic cleaning machine.
Engine/Head Assembly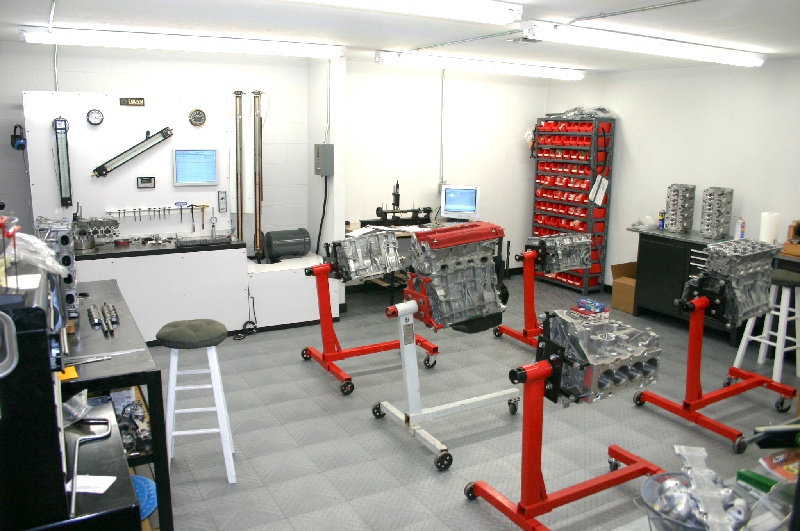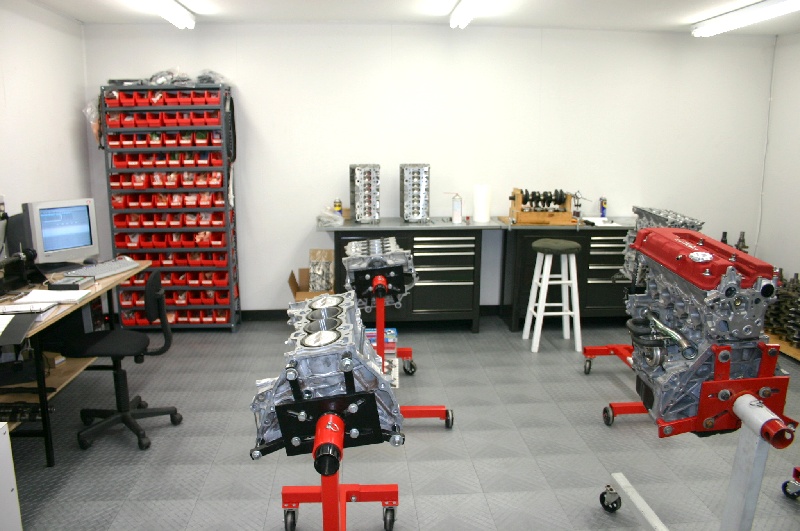 Cleaned components are taken to our engine assembly room, which is well insulated from the machine areas. This area is very well-lighted and temperature-controlled at 73 -75 degrees continuously. Our measuring equipment reads accurately to .000001". All head CCing, valve spring pressure measurements, head assembly, and engine assembly takes place in this room.
....and say it ain't so. We also build an occasional V8 (with Honda specs) for customers looking for an edge over the competition.
Flow Testing
Our 1000cfm flow bench uses a laminar flow element to analyze flow quality, a digital flow transducer for measurement of bulk-flow in pulsing tests, and computerized orifice measuring system for readily comparing flow numbers with other mainstream commercially-available flow benches.
Camshaft Analysis
Our camshaft measuring and analyzing equipment also shares space in our assembly room. We can compute valve timing directly from the cam lobes using radius pads, and we can also measure it directly from the valves on head assemblies with custom fixtures we've engineered.
Dyno Testing
As you can see, our investment to insure that our customers receive the very finest engine componentry is substantial and it doesn't stop here. With our in-house engine dyno facility, we have the ability to measure and quantify the performance of each and every part of the engine, and then access their performance as assembled engine combinations.
No expense was spared in the construction of our spacious stand-alone dyno facility, which meets or exceeds all SAE certification standards. An axial-flow fan in specialized ducting are used to vent 28,000 cfm through the room to eliminate any possibility of exhaust contamination. Separate fans and air-conditioning in the inlet plenum allow us to precisely control air temperature and barometric pressure, assuring accurate testing that's not affected by outside weather conditions. Engine water temperature is accurately maintained via a 1300 gallon coolant reservoir inside the building.
We measure engine air consumption via the ceiling-mounted air flow transducer that's inline with the secondary intake plenum-box visible at the rear of the dyno.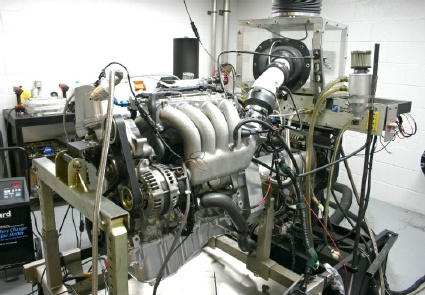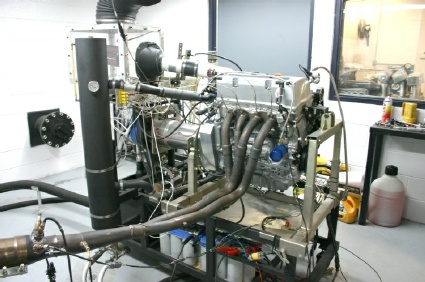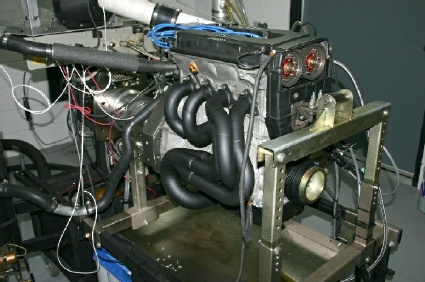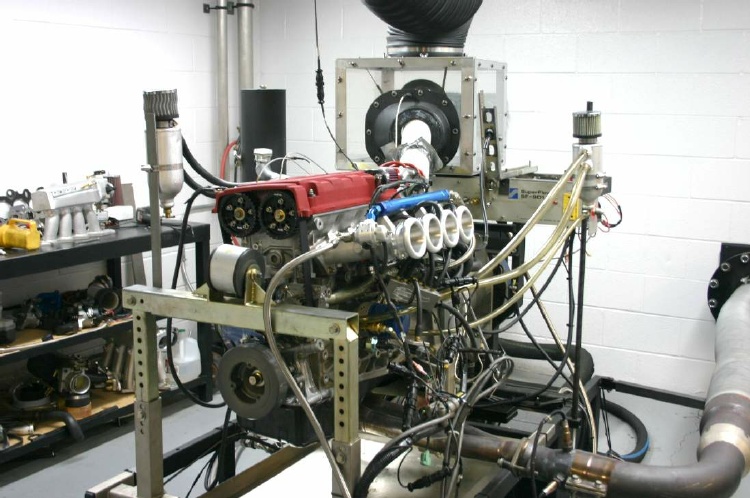 Exhaust gas temperature is measured in each header primary pipe to insure that both fuel and air flow/distribution is correct from cylinder to cylinder.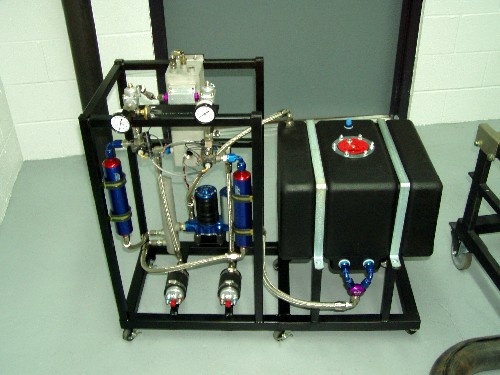 Fuel flow and consumption are measured using flow meters combined with a float-chamber on our stand-alone fuel system that's linked to the dyno's data acquisition system. We also use three independent wide-band O2 sensors to monitor real-time air/fuel ratios.
Crate Engines
Our primary business has become building and tuning custom engines for customers' specific needs, which run the gamut from high-profile professional road (and off-road) series to various spec-racing classes, and of course, high efficiency street usage. Each engine is custom configured for the intended application, broken in and tuned on our dyno, and guaranteed to perform to our specifications.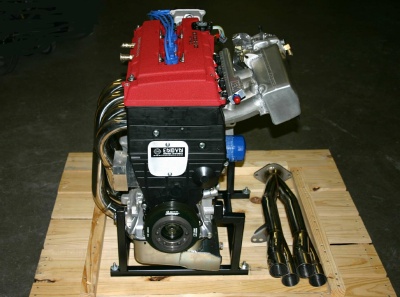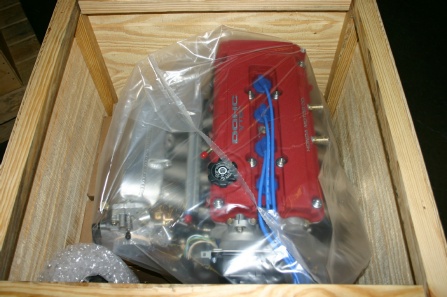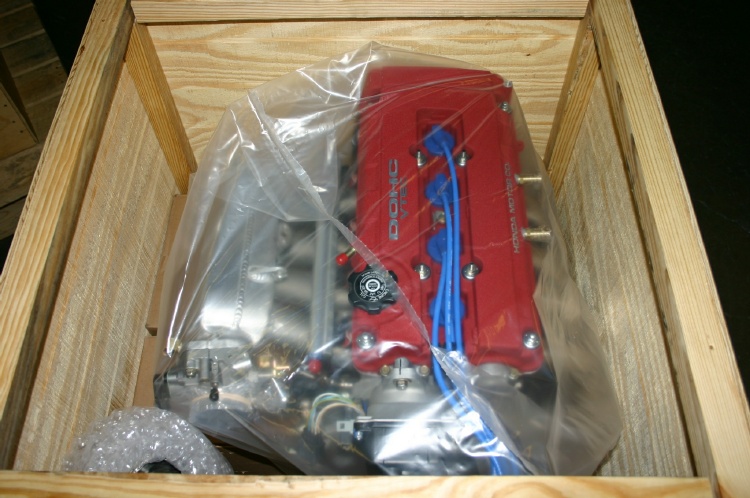 Each engine is placed on a steel stand and bolted into heavy-duty crates we have custom-built for shipping.
Endyn's commitment to providing our customers with the finest componentry available at any price is the same today as it was in 1974 when we first opened our doors. Our ability to engineer components that "affect" combustion efficiency is well-known to long-time racing enthusiasts. Over the years, we've assembled the equipment and personnel necessary to conduct complex research and development programs completely in-house, saving customers time and money. Long ago, I recognizing that quality and quantity are two entities that can not coexist in this business, and therefore, we're out to serve the discerning few rather than the masses.
Endyn is my "hobby shop", where each and every piece we produce is treated just like what I build for myself. Since the business is not ramped by the clock, we take whatever time is necessary to insure that the job is done to perfection. I won't have it any other way............
Larry Widmer (The Old One)