New Machinery
In December of 2006, we replaced our trusty Serdi 3.0 valve seat machine with a new Serdi 4.0 model. The majority of the heads we do today are welded with new (square-shaped) valve seat inserts, which require both more power and higher clamping in the machining process. Since we do several non-Honda heads (Toyota 2JZ, Mini Cooper, Nissan RB26, and an occasional Chevy LS7, the larger 4.0 given us the flexibility we need to insure machining accuracy on diverse castings.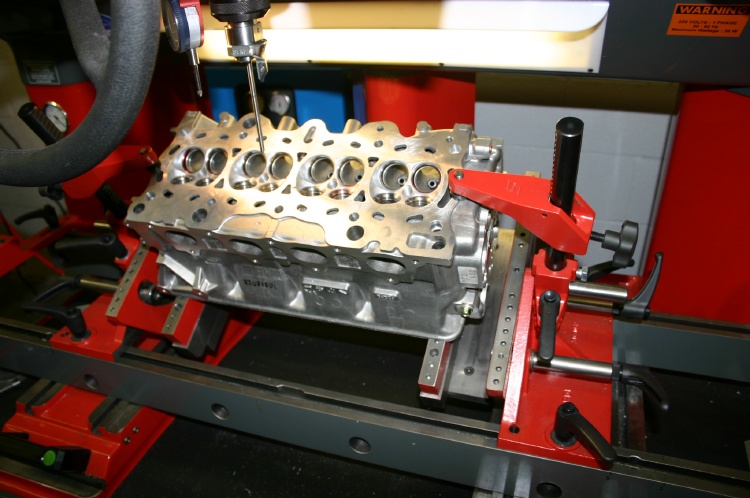 We've also built fixturing that allows us to precisely locate heads using dowels that fit bolt holes on the camshaft-side of the head. The fixture also mounts the heads lower than Serdi's system, which lowers the center of gravity of the machining spindle, improving seat accuracy.
We also use Serdi's latest valve guide honing machinery with custom-machined mandrels to achieve perfect valve to guide clearances.
In an attempt to insure prompt cylinder head service for our customers, we added a new employee who was formerly a cylinder head quality expert at Ray Evernham Motorsports.
In June we added a Newen Contour BB CNC valve seat machine to the shop to keep up with product demand, without sacrificing quality.
The Newen allows us to accurately machine combustion chamber shapes, complex radiuses, valve seats, and port throats all in one machining operation. A computer controls the position of a single point cutting tool in the work head, netting the finest valve seat concentricity and finish in the industry today. The cutting tool is visible in the picture below.
Valve seat height (relative to head deck) from valve to valve and chamber to chamber is within +/- .0002" to insure that piston to valve clearances are exactly the same throughout the engine. A fully-finished, blended seat is accomplished in less than 30 seconds machine time, demonstrating that, at least in this instance, quality and increased quantity can co-exist.
Our monthly quota of brand-new CNC'd Supra heads....