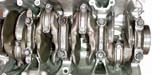 B20B with Endyn/Eagle B18B rods. Stock B20B crank has been reworked some.

Compare to earlier B motor castings, the front webbing seems to be bigger. On rear of the block there also isn't a hole for the vapor canister.

You can clearly see the factory one piece cylinder sleeve. These JE pistons are ordered by the customer; they are not our configuration. These domes closely resemble the B16B pistons.

Overview shots of the P72 head we prepared.

Close up shots of the intake port. Just some minor rework, nothing major. But the quality of the flow is dramatically improved.

Close up shots of the exhaust shots. Just minor messages too.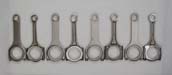 The current Endyn/Eagle rods line up.


ZC head with some sweet loving. Explanations coming...